What our colleagues have to say
Technical Architect

& Stand Up Comedian

"I enjoy working every day at the cutting edge of the Microsoft 365 and Azure stack on projects that are relevant and meaningful to me. I experience a collegiality that I have not experienced anywhere else and I am able to combine my work well with all other activities. 'Proudly owning my shit since 2014' at Infront and to this day happy with that choice!"
- Laurens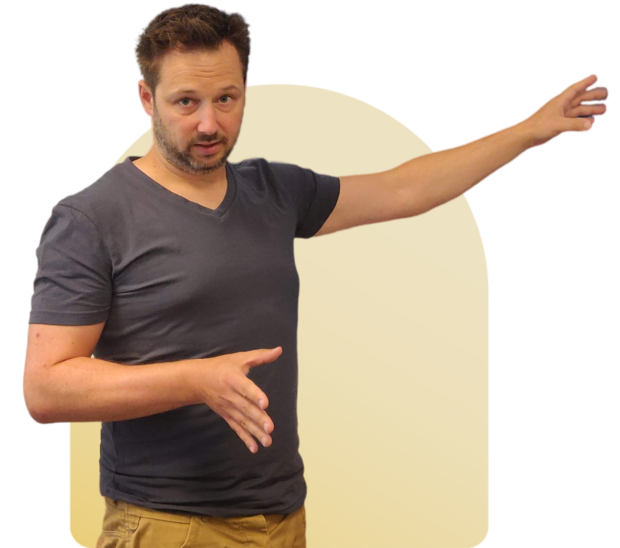 Functional Analist

& Atmospheric Top Mum

"I had been working at the pleasant Cronos group for some time, but finally it was at Infront that I found my niche, now more than 13 years ago. What makes me a loyal Infronter is the freedom, the support, the flexibility and the many opportunities. I worked as a technical consultant within D365 for many years, but 2 years ago I made the much-desired switch to functional analyst. I felt well supported in this by colleagues with more experience.

But what really makes the difference is that with us, even the junior learns things from the senior, everyone is equally important and that is the open atmosphere that makes Infront special. Also in the combination with your personal situation, you feel that every person counts: they listen and think about possible solutions that can make things easier for you. A cool company where attention to the individual is as important as the work itself!"
- Joy
Help us bring joy to all digital interactions.
Technical Analist

& Superman Dad

"Since my first interview, now over four years ago, I knew that Infront is all about the person behind the consultant. A lot of professional challenges have come my way in the meantime, but each time it was about how Infront could guide me and help me meet them. This thanks to the combination of a personal approach, training to improve hard skills but also attention to soft skills to work better together as a consultant. Both with the client and with colleagues.

At Infront, flexibility really does mean flexibility: choosing when to work, where to work and how it suits me best with my activities and a family life with two young children. This freedom is also reflected in the casual atmosphere between colleagues: Everyone can get the best out of themselves here in their own way. Also because of the many activities alongside work, you get to know each other better and in a different way, which is a great added value for our team."
- Stijn
Functioneel Analist

& Funfront Tour-operator

"I have always had a huge appetite for challenge in my job. At Infront, I've already been given (and taken #owningmyshittillidie 💩 ) a lot of opportunities to grow, putting me further ahead than I ever hoped. All this also due to the incredibly fine collaboration with colleagues...talking about #oneteam💚. As captain of our Funfront team, in which we provide top-notch team-building activities (read: trips, sports, drinks, festivals, paintball, kayaking trips, bike tours...need I say more?!), I in turn help provide the extraordinarily fun spark in the office and far beyond! 🥳🎉"
- Lennert
Functioneel Analist

& Knowledge-eater-for-breakfast

"Working at Infront has been for me not only a great start to my professional career but also the immediate next step. Thanks to the different projects, customers and sectors, each project unfolds into an innovative solution and thus learning opportunity. The choice of training and/or self-development in both IT skills and soft skills also contribute to the daily challenges. #bethespark


On top of that, the extremely fun atmosphere among colleagues ensures that Infront is more than a stepping stone in your career but rather the place to build your professional career."
- Joren
Talent Lead

& Good Vibes Consultant

"Spending every day among the family you have chosen for yourself, that is what working at Infront means for me. Since 2019, I have been proud Talent Lead of an unprecedentedly close team of fine consultants who go through fire for each other. "Surely you have that everywhere" I often hear people say. But we also put words into action: What makes Infront unique for me is that each person can and is allowed to be themselves completely, no masks, no fake conversations, no energy loss due to walking on eggshells or having to adapt. Everyone's voice is heard, loud or rather quiet, it doesn't matter. Senior or junior, technical or functional, full time or part time, we grow together and each at his strength and with respect and help for the other. Besides this, the enormous flexibility, getting challenged but also supporting ownership, the participation, involvement and fun (during and outside work) is what makes me loyal Infronter."
- Nele
Bring joy to your digital interactions.